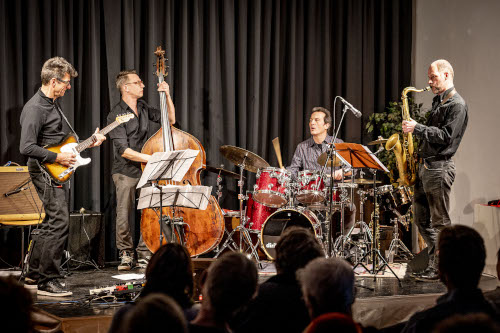 Jazz Night 181 mit Dirik Schilge JG4
Fr. 02.12.22 / Eisenbahnstr. 13 / Einlass: 19:00 Uhr
Tickets: 18 € / Mitglieder: 9 €
Der Heidelberger Schlagzeuger Dirik Schilgen kommt mt "Jazz Groove 4" im Quartett zur 181. Jazz Night. Thomas Langer ist seit 2016 Mitglied der Band und bringt die Erfahrung aus seinen vielfachen Ensembleaktivitäten und Engagements ein. Mit dem Saxophonisten Gary Fuhrmann spielte Schilgen bereits in verschiedenen Formationen wie auch am Theater Heidelberg zusammen. In dieser Kombination wird der Sound elektrischer – hinzu kommt der besondere Reiz der 2-stimmigen Melodieführung von Saxophon und Gitarre. Der Mannheimer Bassist Matthias TC Debus hat bereits bei zahlreichen Konzerten und CDs mitgewirkt; er ist in diversen Stilistiken zu Hause und zudem ein virtuoser Solist.

Maximal-Bandworkshop - Abschlusskonzert
Sa. 03.12.22 / Eisenbahnstr. 13 / Einlass: 16:00 Uhr
Eintritt frei
Nach vier Wochen intensiver Workshop-Arbeit werden die Teilnehmer des diesjährigen Maximal-Bandworkshops die Ergebnisse in einem Abschlusskonzert präsentieren.
Montags-Band: Andreas Finke (bass), Rudi Stolz (dr), Dieter Walz (git), Costa Vassiliades (git), Nina Massie Meyer (keys) und Ute Ehret (voc).
Samstags-Band: Gerald Jäger (bass), Anastasia Stoll (klari), Stefanie Diefenbach (keys), Frank Kraus (git), Jakob Zimny (git) und Lauritz Krill (dr).
Moderation: Thomas Langer
Bridges-Ensemble: Balkan Spirit Trio
Fr. 09.12.22 / Eisenbahnstr. 13 / Einlass: 19:00 Uhr
Tickets: 16 € / Mitglieder: 8 €
Das Ensemble Balkan Spirit fand 2022 im Rahmen von "Bridges – Musik verbindet" zusammen und greift die musikalischen Traditionen seiner Musiker*innen auf: Vladimir Dindiryakov (Kaval), Eleanna Pitsikaki (Kanun) und Dennis Merz (Gitarre, Hang Drum, Kontrabass) präsentieren Musik aus den Balkanstaaten und lassen dabei auch Elemente des Jazz' und Flamenco einfließen. Alle drei Musiker*innen sind zudem Mitglieder des Bridges-Kammerorchesters und bringen mit Balkan Spirit ein vielfältiges Repertoire in außergewöhnlicher Besetzung auf die Bühne.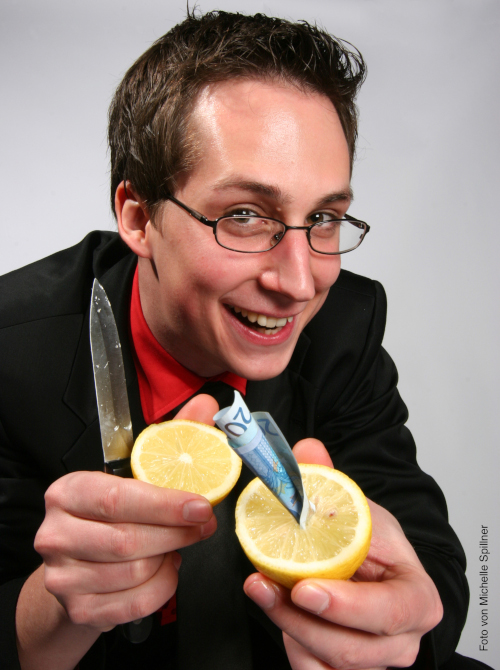 Zauberkunst: Andreas Fleckenstein
Fr. 20.01.23 / Eisenbahnstr. 13 / Einlass: 19:00 Uhr
Tickets: 18 € / Mitglieder: 9 €
Andreas Fleckenstein sieht eigentlich ganz harmlos aus – aber das ist auch schon sein erster Trick. Fleckenstein bietet keine "Las-Vegas-Show".
Er präsentiert sein Tricks ganz entspannt – fast nebenbei. Mit Alltagsgegenständen und hochgekrempelten Ärmeln spielt er auf verblüffende Art mit der Wahrnehmung.
Dabei muss man nicht alles erklären können, denn Staunen hält jung! Im Maximal wirkt die hautnah präsentierte Zauberkunst von Andreas Fleckenstein phänomenal beeindruckend.



Offene Bühne: Jazz Session
Mi. 25.01.23 / Eisenbahnstr. 13 / Einlass: 19:00 Uhr
Eintritt frei
Die Session wird eröffnet von einer Opener-Formation. Nach der Eröffnungsrunde ist die Bühne wieder frei für Musiker, die über genügend bekannte Jazz-Titel in ihrem Repertoire verfügen. Beschallungsanlage etc. sind vorhanden. Um den Ablauf besser planen zu können, werden Musiker:innen um Anmeldung gebeten per eMail:
Diese E-Mail-Adresse ist vor Spambots geschützt! Zur Anzeige muss JavaScript eingeschaltet sein!
Selbstverständlich sind auch Jazz-begeisterte Besucher herzlich willkommen.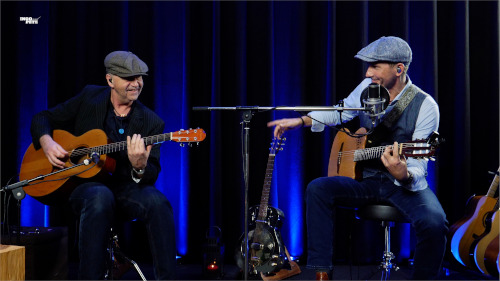 Singer-Songwriter: Ingo & Pete
Sa. 28.01.23 / Eisenbahnstr. 13 / Einlass: 19:00 Uhr
Tickets: 16 € / Mitglieder: 8 €
Ingo and Pete sind der begnadete Sänger und Gitarrist Ingo Mützel. Mit seiner Band Cuba Vista hat er weltweit über 2000 Konzerte gespielt. Der zweite im Bunde ist der Münchner Gitarrist Peter Schneider alias Pete. Er war Gitarrist unter anderem bei Ike Turner, Willy Michl, Westernhagen, Hans Söllner und leitet seit 20 Jahren die Band "The Stimulators". Kennengelernt haben sich Ingo and Pete auf den Kanarischen Inseln, wo sie wie im Fieber 13 Songs geschrieben und von Zeiten vor der Pandemie geträumt haben." Gib mir das Gefühl, wie es früher einmal war…". Man darf nicht aufhören zu träumen, dann ist nichts verloren. Das glauben Ingo and Pete!
Pub-Quiz: RodgauRätselRunde
Fr. 27.01.23: / Eisenbahnstr. 13 / Einlass: 19:00 Uhr
Teilnahmegebühr: 4 €
Das Maximal-Pub-Quiz ist ein "Teamsport" für Geist und Unterhaltung. Mit einer Tisch-Teamstärke von maximal fünf Personen wird um den Tagessieg gerätselt.
Nicht das Wissen Einzelner steht im Vordergrund, sondern wie man eine Antwort findet, die möglichst wahrscheinlich ist. Oder kann jemand auf Anhieb beantworten, wo die verstorbene Queen über ihre Inthronisierung informiert wurde? Das Team kann es. Die Plätze sind begrenzt, daher ist eine Voranmeldung (und oft auch etwas Geduld auf der Warteliste) erforderlich. Neueinsteiger können sich auf einen kurzweiligen Abend bis nach 23:00 Uhr einrichten.
Maximal Kulturinitiative Rodgau e.V.
Eisenbahnstr. 13
Kontakt: Diese E-Mail-Adresse ist vor Spambots geschützt! Zur Anzeige muss JavaScript eingeschaltet sein!
Website: www.maximal-rodgau.de
FB: https://www.facebook.com/MaximalKulturinitiative/